How do our Premium Packages compare to our Free listings?
12 'No-Brainer' reasons to Upgrade that make good Business Sense:
1.Remove Pop up ads
As a free listing your prospective customers have to wait 10-30 seconds for the pop up advert before your listing is shown, Premiums accounts have no ads, so people get straight to your business.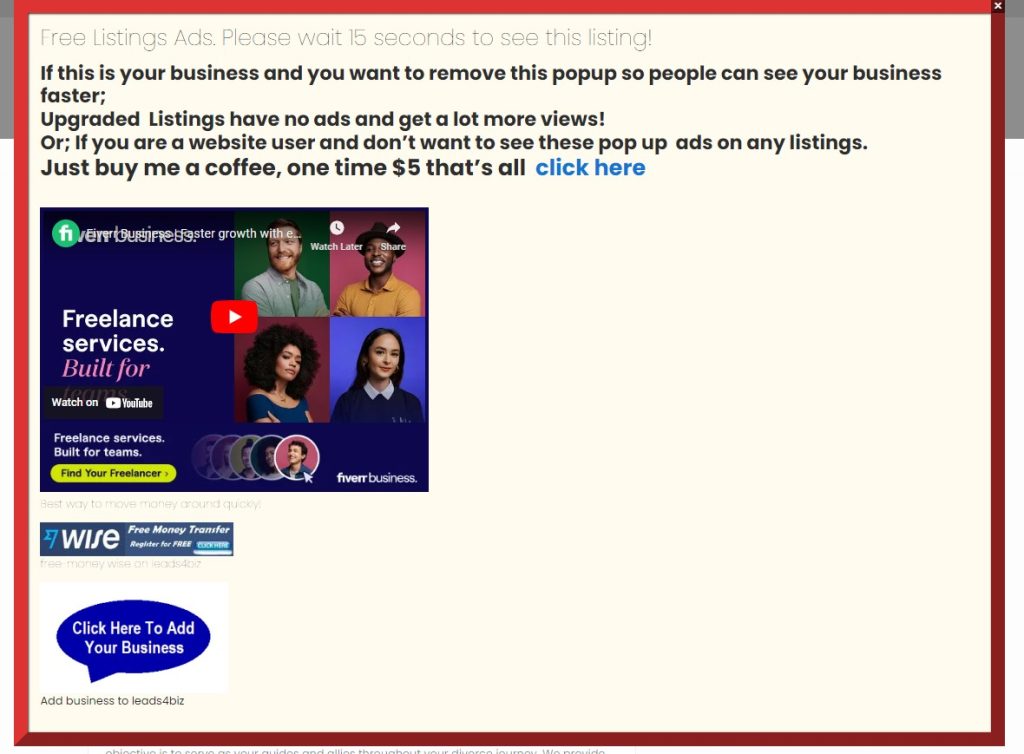 2.Home Page, Top of Category and Top of searches
Premium listings stay on our Home Page and Premium Listings at the top of the category so; are more likely to be seen by potential customers. Free accounts get pushed down as new companies register each day, and around 15 new business register with us each day!
Meaning: free listings stay on the Home Page for a few hours only!
When people search on the site for any keyword, category or country, a free listing may not be on the first page and not seen as quickly. Premium Accounts stay at the top of all searches and remain visible when visitors click on the category. Premium Accounts are static on the Home Page for maximum visibility!
3.Home page Search Engines for your business key phrase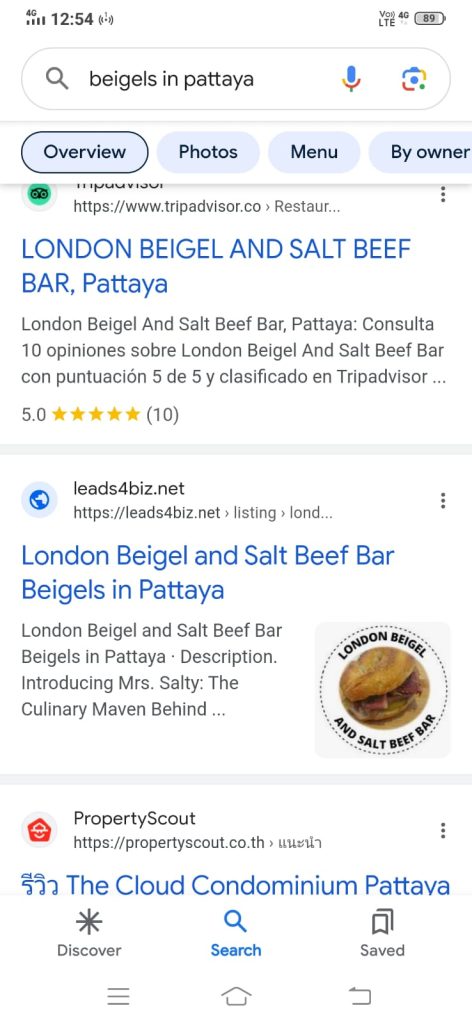 80% of the premium listed members on this site find their key phrase on page one on search engines for leads4biz within a week, like 'Beigels in Pattaya' above and 'Jacky Bakes' below! (if you are a high sought after key phrase then we will at least boost your rankings by being home page on our site) the upgraded members can put their key phrase in their listing page heading! We will even do some keyword research for you to see what keywords are most searched by your target audience!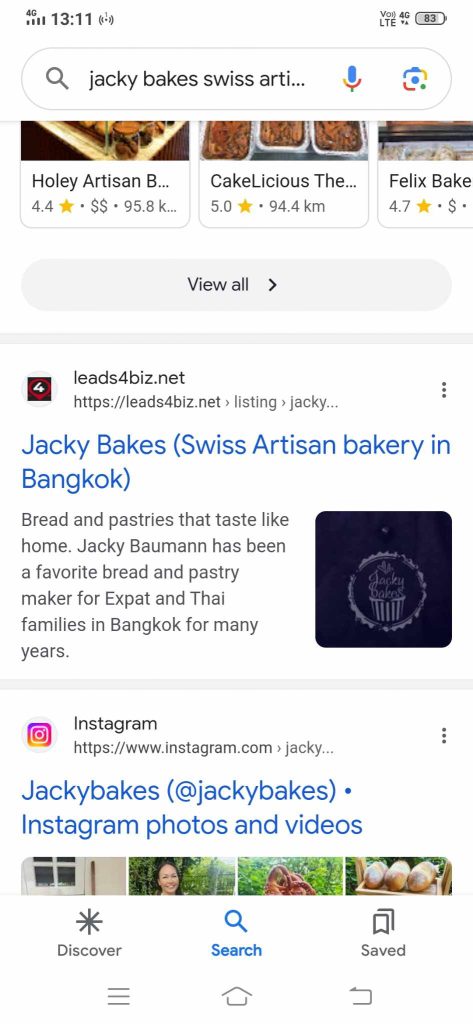 4 Instant Messenger Links
Upgraded listings have their favourite Instant messenger links as links or QR Codes so visitors can contact them quickly. Free accounts? Nope!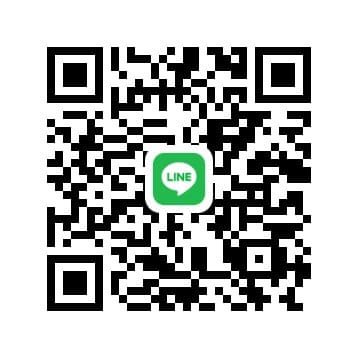 5.Images
Free Listings have only one image, usually your logo. Premium Listings can use the power of multiple images.
Images sell a business!
if you are a Hotel and all you have is your logo shown on your listing, people cannot see how good your rooms are, or your pool, the gym or the views. Use the power of visual connection to sell your business.
If you sell flowers, having 10 images of your amazing bouquets will mean so much more to potential buyers looking at your listing than just your logo that you get with a free account!
6.Social Media Links
Free Listings have only one link to your social media but Premium has multiple options.
If visitors to your listing see your LinkedIn, Instagram, TikTok, and Twitter accounts or your Line or whatsapp link, they can contact you quickly and they can see you are a serious business and can see more about your company. Keeping fresh prospects engaged is the key to being successful.
Free Listings only have your Facebook page, Premium Accounts can also display links to 4 further Social Media Accounts and Instant messenger links.
7. Unlimited Blogging
Send us as many interesting informative articles (750 words minimum on Word doc) as you can and as long as its educational and not too much selling, we will post for you with links to your website and your listing and we share each one on all our 500,000 social media for you!
Check out our member's blog posts here (There is a counter at the bottom so you can see how many read the blogs!)
8.Embedded Video
Can you show a video in a free listing? ..Sorry but no!
This is the age of the 'fast consumer' who wants to spend less than 10 seconds before they find their required information. This means that people are more likely to watch a video as it's more engaging than simple text. (Videos are also very powerful for your search engine optimisation.) Premium accounts can have videos embedded into your listing to engage your visitors. If you don't have a YouTube channel, where have you been? (If you need help making a corporate video please contact us at: contact@leads4biz.net 
9.Social Media Sharing
Premium accounts get shared to our 500,000 social media reach on a regular basis. Free accounts can have access to this if they supply us with leads in return.
By far the second best unique selling point of Leads4biz is our social media reach. If we share your link to you listing page on our LinkedIn circa 19,000 followers (plus LinkedIn groups) Facebook pages and groups, numerous Twitter accounts, Reddit, mix, Quora, Pinterest, Instagram and many others on a regular basis, it will drive fast traffic back to your listing and this means more chances of a potential client!
10.Newsletters
Do Free Accounts get an add on our newsletter?
Er.. No!
We are in the information business. The database of decision makers we have amassed over the last 9 years as a business directory is quite the envy of many similar businesses. Premium accounts have their logos on our weekly newsletter to 30,000 (and growing), driving traffic and eyeballs back to your business.
11.Sales Leads
Premium has access to the buyers we find each day, free accounts do not!
The most effective unique selling point of leads4biz is Buying Leads. If you are a Sales Manager or a Company owner you will know exactly how important a warm qualified buying lead is!
We find the leads every day through telesales and our affiliates and we email you the leads as soon as they come in. All you have to do is contact them and do your thing! You can see what leads we have right here
12 Display services
Your listing talks about your business which is great for branding, but what about what you sell ? Well; as a premium member you can add all your products and services one by one with prices on your listing page…no services for the free loaders sorry!
Upgrade from just less than $1.60 a day ($50 a month no long contracts) contact me for more info:
contact@leads4biz.net
In Summary: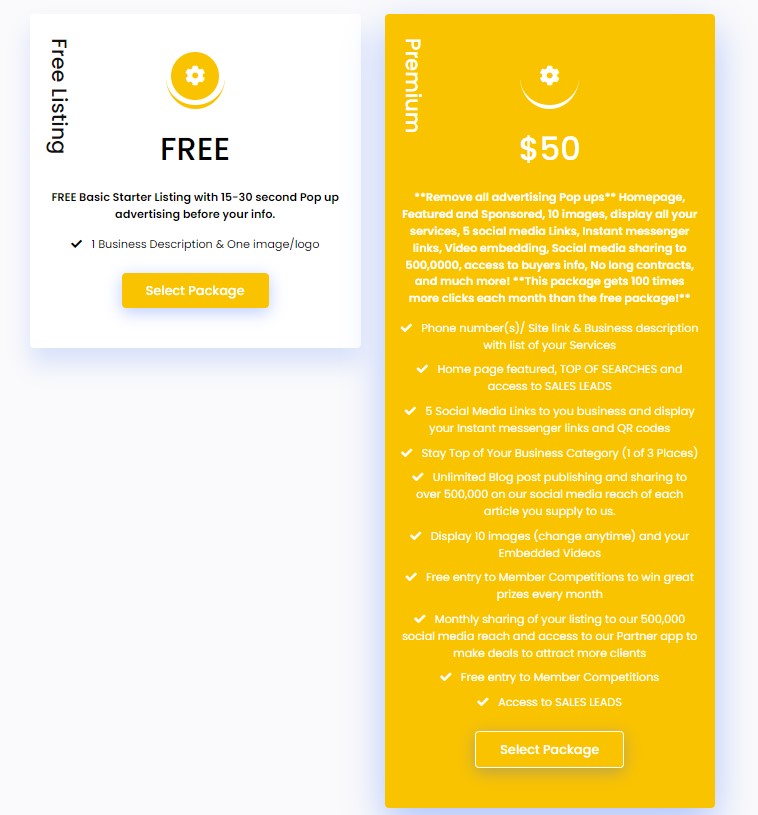 Nope I still don't see the value in any of this: just give me the the basic free Listing with pop up ads and basic details and let me leave success to chance!