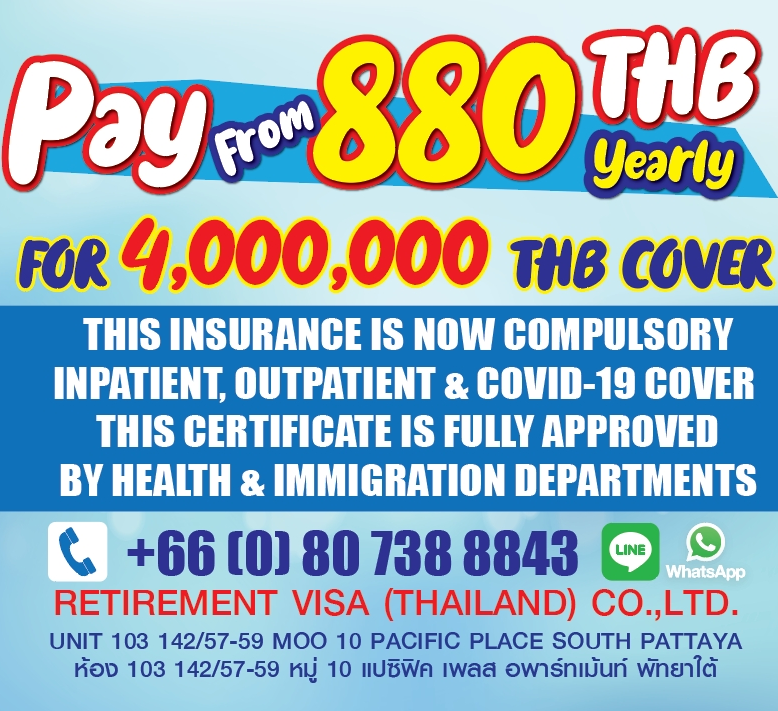 Thailand Covid Insurance offers insurance to cover your visa needs for both inbound tourists and long-stay visa holders in Thailand.

* For people living in Thailand, our retirement and long-stay policies cover you for your visa renewal as required by law.
* Receive a 100THB discount for retirement or long-stay visa insurance at Retirement Visa Thailand by mentioning Leads 4 Biz.
* For people coming to Thailand, our inbound policy covers you for double the requirements of the Thailand Pass.
* Inbound travellers to Thailand must have insurance to comply with the Thailand Pass. Until April 30th, receive 30% off your inbound insurance policy. Please use the code 30OFF to receive your discount online.
Policy Highlights:

– Certificate approved for immigration automatically upon payment.
– Medical expenses for inpatient & outpatient due to accident (including Covid-19) up to 4,000,000 THB.
– Loss of life, loss of sight, dismemberment, or total permanent disability due to accident (Including 100% murder assault) up to 1,000,000 THB.
– Third party liability up to 650,000 THB.
– Policies cover you for up to 99 years of age.
Whether in Thailand or travelling to Thailand, Thailand Covid Insurance has you covered.
Click here for more information on the policies available.
Please use this code to get a further 100 baht off 'L4B1'
Right now walk in and mention Leads 4 Biz and get 100THB off your retirement or long stay visa insurance policy at Retirement Visa Thailand.
Retirement Visa Thailand
Agent for Thailand Covid Insurance
Located Conveniently at Pacific Place Pattaya.
info@retirementvisathailand.org
Give them a call on: +66(0)80 738 8843
REMEMBER TO USE THE CODE 'L4B1' TO GET A FURTHER 100 BAHT DISCOUNT.
#retirementvisathailand #thailandtravel #thailandinsurance #visainsurancethailand #insurancethailand #thailandcovidinsurance