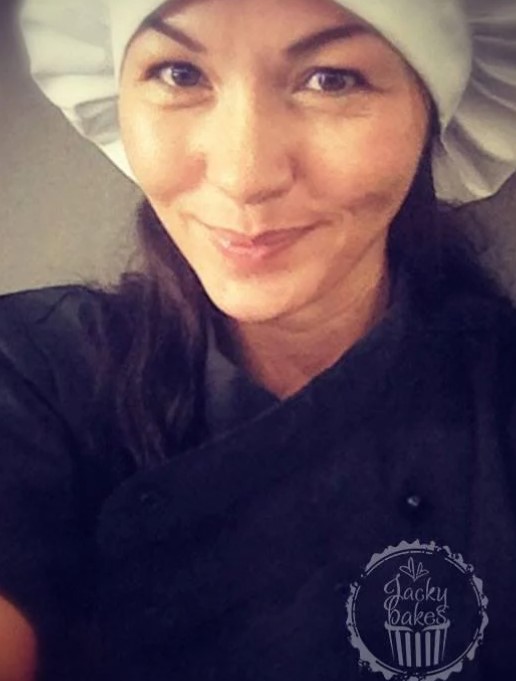 Discovering an authentic Swiss Baker in Bangkok
Nestled in the rural streets of Samut Prakarn lies a hidden gem – the Swiss artisan bakery of Jacky Bakes which is a family-run bakery, steadfast in its dedication to preserving traditional Swiss baking methods and capturing the essence of European bakery foods.
Traditional Swiss Baking Techniques This Swiss baker in Bangkok prides itself on adhering to time-honored Swiss baking techniques, using only premium quality ingredients often sourced directly from Switzerland. Each recipe used at the bakery has been meticulously perfected over the years, ensuring consistency in taste and texture. From breads to pastries, customers can enjoy an array of European delights that have been crafted with love and respect for the Swiss baking heritage.
Exquisite Selection of European Treats
The bakery offers an extensive menu, including crispy twister breads, soft pretzels, crunchy framers and breakfast buns and flavorful jam donuts (called "Berliners") are among the many items that transport expatriates back to their European roots. For those with a sweet tooth, an assortment of pastries, cakes, and Swiss cookie creations entices taste buds and brings a sweet nostalgia.
 Emphasis on Health and Sustainability
Besides delivering authentic European flavors, the Swiss baker in Bangkok places a strong emphasis on health and sustainability. Where possible, organic and locally sourced ingredients are used to create their delectable treats where selectively imported ingredients from Switzerland ensure the original taste.
Living abroad no longer means compromising on the flavors and delights of European bakery foods. Expatriates in Thailand, particularly in Bangkok, can indulge in the rich traditions and authentic tastes of Swiss baking through the Swiss baker in Bangkok. With its commitment to upholding the art of Swiss baking, personalized service, and a strong community connection, this artisan bakery brings joy and nostalgia to the expatriate community while introducing Thai locals to the wonders of European bakery foods. So, the next time you find yourself missing the taste of Europe, let the Swiss baker in Bangkok transport you back to the land of Swiss Alps and Swiss chocolates, one mouthwatering bite at a time – it is only a few clicks away and will manufacture for you fresh to online order.
Originally serving clients out of her own tiny kitchen in Samut Prakarn, Jacky-Bakes recently scaled her baking business into a more professional operation.
Christmas Cookies have always been a key seasonal offering of Jacky-Bakes and this year's manufacturing has already been ramped up. As usual, clients may ask to order their fair share of traditional German-Style Christmas cookies early and may simply visit the website (www.jacky-bakes.store), order today but indicate their preferred delivery date in the weeks before Christmas.  
Besides Christmas Cookies, Jacky-Bakes is always busy with the preparation of Company Gifts. Rather than sending seasonal greeting cards or hampers to clients, more and more companies decide to provide artisanal baking products (mostly Christmas cookies) at year-end.
New products soon to come:
Jacky-Bakes will soon not only offer baking products, but is in the process of scaling the production of other food items, e.g. traditional Swiss dried meat products. These locally manufactured new products include: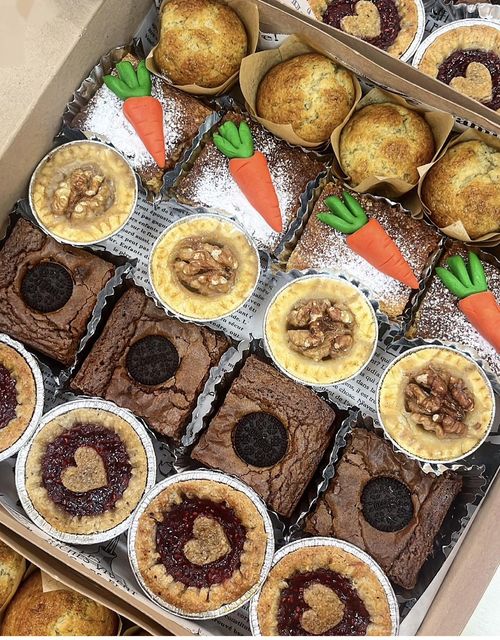 Landjäger (or Hunters) that are a semidried sausage traditionally made in Southern Germany, Austria, Switzerland, and Alsace. Hunters are popular as a snack during activities such as hiking. It also has a history as soldier's food because it keeps without refrigeration and comes in single-meal portions.
The main ingredient is beef, taken from the animal's upper thigh or shoulder, the fat and the sinews being removed. Hunter sausages are made of roughly equal portions of beef and pork with lard, sugar, red wine, and spices, such as caraway, black pepper, coriander seed, and garlic.
According to the Swiss German Dictionary, the name "Landjäger" was possibly derived from the dialect expression for 'smoked for a long time, air-cured for a long time.' The humorous reinterpretation in the sense of 'mounted police' may be inspired by comparing the stiffness of sausages with the perceived military rigidity of a rural Swiss police officer.
Bundner-Art or Grisons Meat, also known as Viande des Grisons, is an air-dried meat that is traditionally produced in the canton of Graubünden, Switzerland.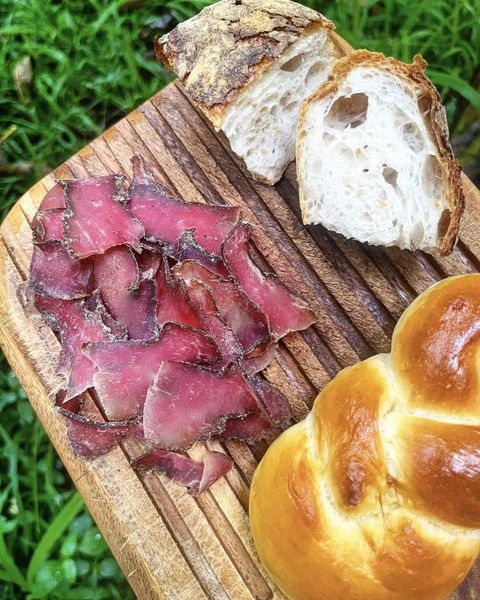 The main ingredient is beef, taken from the animal's upper thigh or shoulder, the fat and the sinews being removed. Bundner-Art is sliced very thinly and served with bread. It is often part of the traditional dish raclette, served to accompany the cheese of the same name alongside ham and vegetables.
Same as Jacky-Bakes bakery products, these meat specialties are all made fresh to online order. It usually takes only 2-3 days until such baking delicacies arrive fresh at the client's place anywhere in Thailand, whereas meat specialties take a 6-8 weeks of lead time. But those who have already tasted the Jacky-Bakes meat treats wait for them happily. Message Jack directly on Facebook for details.