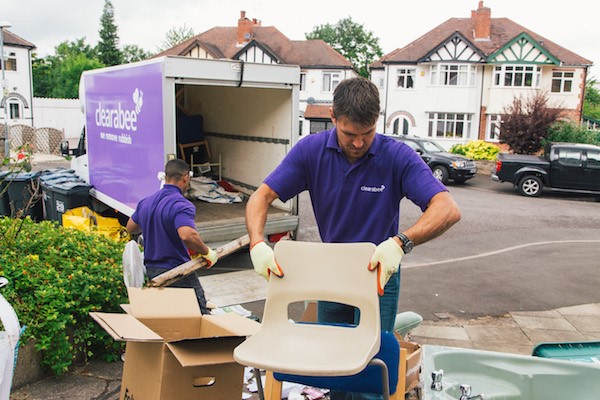 The Living Wage Foundation Accredits Rubbish Removal Company
What does a living wage and rubbish removal have in common? As it turns out, everything!
Clearabee Is Honored
On 3 March 2015, a press release went out to all the top newspapers and magazines, like the Facilities Management Magazine, as well. The Living Wage Foundation was announcing they were accrediting Clearabee, a popular rubbish removal company, as a "Living Wage Employer." Daniel Long, founder and director of Clearabee, considered this announcement a grand honor. He was quoted as saying, "Paying the Living Wage means we can attract and retain the best junk operatives in the business and provide our domestic and commercial customers with a highly professional and personable service." In other words, paying a living wage makes rubbish removal a more sustainable business.
What Is the Living Wage Foundation?
The Living Wage Foundation, established in 2011, calls itself a "campaigning organisation" that persuades employers to pay a fair wage. It evolved out a movement by a group of citizens who were advocating for wages to be high enough for a worker to adequately take care of their family. Initially, the group started in London, calling themselves the "London Citizens." Over time, as their message spread and was very well received, citizens from the whole country got involved and the larger group become known as "Citizens UK."
What Is the Living Wage Right Now?
Currently, in October 2021, the living wage is set at £9.50 per hour but this could rise if the cost of living rises. You should note that this wage is substantially higher than the government mandated minimum wage of £8.91per hour. Inside the greater London area, the living wage is set higher, at £10.85 as the cost of living is higher. It will be interesting to see what the new living wage will be when updated in November. Will Clearabee's more than 160 staff members get a pay increase when the living wage is updated?

How Was the Living Wage Developed?
The living wage is based on a calculation called the Minimum Income Standard. It is updated every year and announced in November. A continual influx of new research is used to ensure the calculation keeps up with changing social needs and norms. It was developed in conjunction with the University of York's Family Budget Unit. Now, it is carried out by the Centre for Research in Social Policy, based out of Loughborough University, with funding from the Joseph Rowntree Foundation. The concept has had so much success, other countries like Japan, France, and Portugal are modeling similar programs after what's been developed by the Living Wage Foundation and its partners.
A Living Wage Makes Clearabee's Rubbish Removal Services Even More Sustainable
From their first day of operation, Daniel Long has envisioned a rubbish removal company that operates with an eye toward sustainability. He takes the long view and commits to diverting the rubbish that Clearabee clears out of the landfills. So far, he has exceeded even his own expectations with a more than ninety percent success rate on this goal! It makes sense that Long sees paying a living wage as part of this vision. Happy workers make better workers. They stay longer, they are more productive, they show more pride in their work, they are more committed to the company's mission.
Customers Reap the Benefits Too
A living wage does just benefit employees and employers. It benefits customers too. Although Clearabee has only been in business for about six and a half years, they have gained a very loyal customer base. Much of the marketing is done the old fashioned way by simple "word of mouth" from happy customers tell others about Clearbee's eco friendly rubbish removal services. It is no secret that an important part of their successful formula is the fact that Clearabee's employees are happy to be working with such a beloved company that pays fair wages and takes social entrepreneurism to a whole new level.
Save