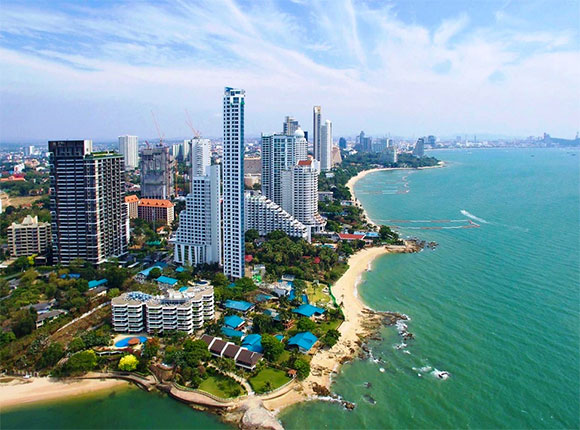 What Buyers of Property in Thailand Need To Know
Pattaya is a resort city on the east coast of the Gulf of Thailand. The city is built around a wide crescent shaped bay. It has a rare combination of being both, a beach destination and having all the amusements & comforts of a big metropolis. It has become the second most important city in Thailand after Bangkok and has a huge influx of international tourist all round the year.
The delights of sun, sea and sand, combined with outstanding entertainment, commercial and tourist attractions, have made this formerly a small fishing village, a big winner amongst expats from all over the globe.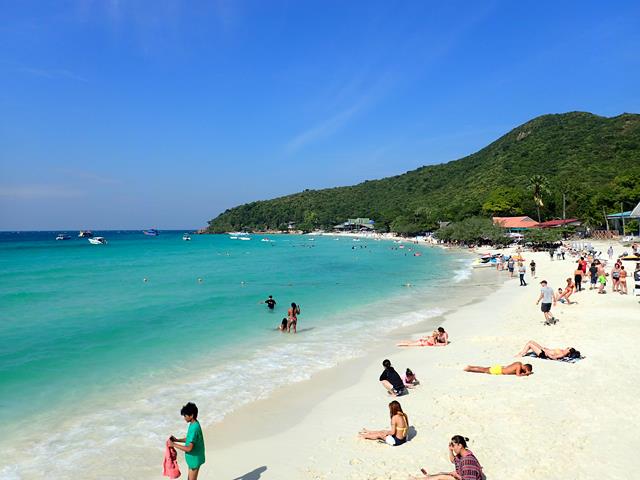 You will get the best beaches like Koh Samae San, which is a tiny island, almost 35 Km south of Pattaya. The North Pattaya (Pattaya Neua) is an upmarket area with north Naklua which is having some top end resorts and Pattaya South (Pattaya Tai) is famous for its nightlife.
Pattaya is a true tourist destination. It caters to all types of traveller category – for families, honeymooners, Senior Citizens, group of friends or for a solo traveller. Here, you will get to see a world-class underwater world, Dolphin world, an open zoo, Ripley's Believe it or not, beautiful Khao viewpoint, beaches, floating market, beautiful Buddha Statues, monasteries, amusement parks, wellness centres and Walking Street. People come in Pattaya, to engross in its mega shopping centres and amenities.
Over the last decade Pattaya has grown exponentially nearly every week a new condo project is launched Wong Amat for example was the location with the lowest unsold condo supply of around 600 units as of the first half of 2020, due to limited vacant land for condo development.
Central Pattaya came in second, as it was a popular location among local and foreign tourists. Buyers in this location preferred buying as an investment or own living.
"The most popular projects with a good sales rate in the first half were those offering guaranteed rental returns, as most Pattaya condo buyers bought a unit as a vacation home," our experts told us.
For people who are new to the property market here is how it works:
House or Condo?
To make an informed choice between a condo or a house has to do with your personal lifestyle but there are also differences in the legal aspects as well meaning;
A condo; you can buy "in your name", meaning that a foreigner can be registered as the owner in the Title Deed known as a 'Chanod' in Thailand, which is governed by the so called "Foreign Quota" foreigners can buy 49% of the sell-able area of a condo project.
Foreigners do not need a special visa for buying any Condominiums, the; 'visa on arrival' or 'Tourist visa' (normally one month), is enough but they do need a certificate from their bank, to show that the funds used to buy were converted from foreign currencies into Thai Baht, you will hear your estate agents explaining to the Bank Manager you need a; 'Tor Tor 3' or 'Tor Tor Sam' Nowadays the system to prove the origin of the funds is much more flexible.
Houses
Foreigners who want to live in Thailand can own houses but not the land! Different ownership of the buildings and the land they are built upon is something not all foreigners are familiar with. For example Germans might know this with properties owned by the churches, the railway or local councils or in harbors, mostly commercial properties, rarely residential.
Nevertheless foreigners can register a 30 years lease or a loan at the land office. Other possibilities arise from company owned properties. How to do this depends on the personal situation of the foreigner and/or the ownership of the land. There is no general advice and Thai laws do have a habit of changing quite quickly so it is always frugal and wise to talk to a qualified agent.
Be aware that you cannot have pets and cook with gas in the condos. Furthermore the square. Meter price of an apartment in Pattaya is higher than that of a house (living area). Alternatively you can spontaneously go on a vacation without worrying about your garden, pool or your belongings.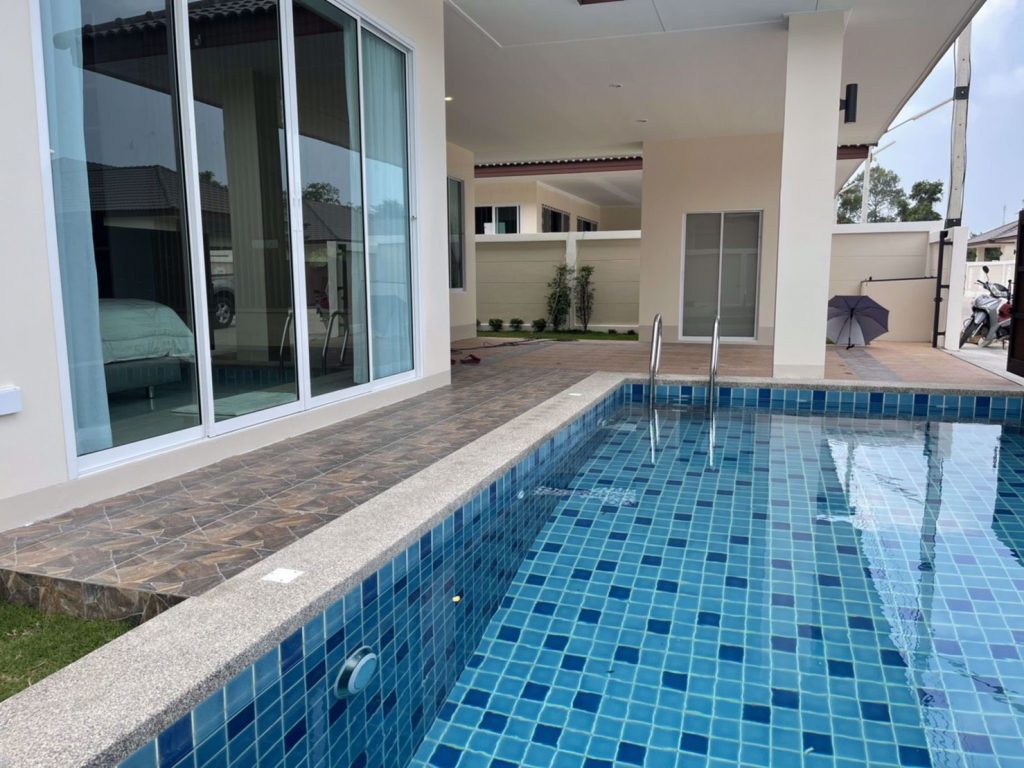 Also a leaking roof or a faulty pool, maintenance of the garden etc. will be taken care of by the condo management; as a house owner you have to do it yourself. On the other hand you have a terrace instead of (sometimes tiny) balcony, your dog takes care of owner security and you can entertain all your friends with a BBQ party.
If you like to stroll on Beach Road every day, enjoy traveling, no kids – consider a condo, if you think your "home is your castle" and you enjoy sitting on a terrace and have a garden where your children and dogs can gad about freely then a house would be more suitable.
I personally would decide upon "lifestyle" as the legal issues can be solved with help but it is your choice.
Use an approved qualified agent!
Sure, you can go around and visit the Condo project showrooms and talk to sales staff, but keep in mind that they must sell only their project. An agent will sell you want you want!
A good agent will listen and adhere to your requirements, ask about size, location, budget etc., put a tour together and show you several properties, afterwards review the tour, it is always a learning process for the customer as well as the agent, and probably set up a second or third meeting until you find your new home. The agent will explain to you the whole process of buying and after you choose your property, they can help you negotiate the price, issue a contract and execute the purchase, if necessary, with a lawyer.
Negotiations are often held in a third language, usually English, this might not be your native language or the language the sales person is fluent in, but also advise you on things you should know but perhaps never considered asking about.
Last and not least: the commission is paid by the seller!
The Contract
The contract to transfer ownership is made at the Local Thai land office and it is in Thai language. Before that you should sign a contract with the seller regulating
"Who buys what from whom at what price and when"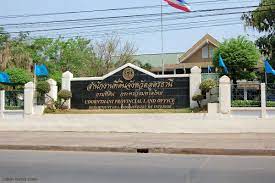 Sounds easy tight? but make sure that the seller is the owner or has a correct Power of Attorney, that the property is actually the one you looked at, that the furniture etc. is included if agreed upon (inventory!), that the date of payment (s) are precise, that there is a deadline (very important if something goes wrong) etc. Contracts are made for 2 reasons: to fix what is agreed on and in case something goes wrong.
The transfer of home contract is like a car airbag and an airbag: mostly you don't need it but you are happy to have it if you are involved in an accident!
Hand Over
A qualified agent will accompany you during the document hand over to make sure that everything is there and in the condition you expect, transfer utility bills, that the property is insured, all the documents are there like title deeds (chanod) or house registration (tabien baan, the Blue Book), keys, passwords, code for the safe, etc.
This article may only touch on some points to be considered.
It is like chess: the rules can be written down on 2 pages but to play the game really well you need a lifetime!
We are a local company with our offices based in the heart of Jomtien which is located just 2.5 km from the city centre of Pattaya. With over 23 years experience in the real estate market, our team consists of English, Thai and Chinese nationals who between them speak 5 languages; Thai, English, Chinese, French and Spanish.
Our company motto "Service Beyond The Sale" is a code of practice that every member of our team work to, to ensure that we give each and every client the best unrivaled service there is.
Our knowledge of real estate in Pattaya and its surrounding area is vast and ensures that we can offer our clients the right choice for their needs, requirements and budget. Every client is unique in their needs, our friendly and well trained staff will listen to your specific needs and will only offer you options that fulfill your criteria. Contact us to see how we can help.